Super Chexx Deluxe Home Bubble Hockey
Price: 2,295.00
1000HEX
Innovative Concepts in Entertainment, Inc.

Arcade Quality Super Chexx Bubble Hockey Factory Direct from ICE


Super Chexx Coin-op Bubble Hockey
Price: 2,495.00
1000X
Innovative Concepts in Entertainment, Inc.

Arcade Quality Super Chexx Bubble Hockey Factory Direct from ICE


Super Chexx USA Bubble Hockey
Price: 2,595.00
1000USAX
Innovative Concepts in Entertainment, Inc.

Arcade Quality Super Chexx Bubble Hockey Factory Direct from ICE USA Miracle on ICE Edition


Super Chexx NHL Bubble Hockey
Price: 2,995.00
1000NHLX
Innovative Concepts in Entertainment, Inc.

Arcade Quality Super Chexx Bubble Hockey Factory Direct from ICE NHL Team licensed edition


Super Chexx Canada Bubble Hockey
Price: 2,595.00
1000CANX
Innovative Concepts in Entertainment, Inc.

Arcade Quality Super Chexx Bubble Hockey Factory Direct from ICE Team USA vs Team Canada edition


Arcade Style Dartboard Cabinet with Cricket Pro 800 Electronic Game
Price: 419.95
DM-E800FS1010
Online Sports

Tournament style free standing game in dark cherry finish features the Arachnid CricketPro 800 tournament soft-tip dartboard. All arcade style free-standing games have great storage capacity.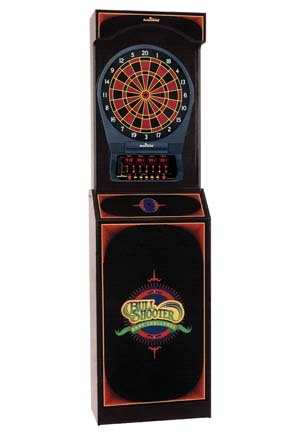 Arachnid® Arcade Style Cabinet with CricketPro 650 Electronic Game
Price: 312.31
DM-E650FS-BK
Online Sports

Tournament style free standing game features the Arachnid® CricketPro 650 tournament soft-top dartboard. Storage capacity within the lower portion of the cabinet.CricketPro 650 game features:8 player score displayIncludes 5 Cricket gamesLED display of player game scores and Cricket displaysTournament Spider in trademarked tournament colorsRegulation 15.5" target area and selectable bulls-eyeNylon Tough™ segments improve playability and durabilityMicro Thin segment dividers dramatically reduce bounce-outsPlay on and ranking featuresSingle in/out, double in/out featuresSolo play featurePlayer handicap featuresSleep mode and reset featureOne year warranty against defects

Downtown 3 Basketball Arcade Game
Price: 209.99
lss-voit-68100
ivgStores, LLC

Includes complete assembly and game play instructions as well as 4 basketballs, 1 inflating pump and 1 inflating needle. Roll-out floor mat with 3-point scoring zone. The mat is activated when you step on it. Fun basketball games for up to 4 players. The large integrated LED electronic scoreboard records all of your shots. 8 different game options. Games included are Head to Head, Tug of War, Game Winner, 4 Player Tournament and lots of other options for playing solo or with friends. Constructed from sturdy 1.25 in. steel tubing. Made from MDF, fiberboard, metal and plastic. Minimal assembly required. 84 in. L x 43.3 in. W x 84 in. H (40.5 lbs.) With the Voit Downtown 3 Basketball Game you can have the arcade basketball experience in your home. Shoot up the neighborhood with some fun and the Voit Downtown 3 Basketball Game. Falling behind? Step back on the 3 point mat, nail a 3 pointer and you're back in the game! When you're ready to take a break and need your room back, just fold up the Voit Downtown 3 Basketball Game for easy, compact storage. Who's up for a shooting tourney? Grab a friend and play to see who has the best shot. The distinctive feature of the Voit Downtown 3 Basketball Game is the ability to make 3 point shots. Just stand on the roll out mat and when you swish your jumper your 3 pointer will be scored. Play side by side against a friend, or just practice solo. Assembly takes 2 adults approximately 1 hour.

DMI Sports Arachnid Arcade Style Cabinet with Cricket Pro 650 Electronic Dart Game
Price: 299.99
450983
Shopping Warehouse

Turn your rec room into an arcade with this Arachnid Arcade Style Cabinet with Cricket Pro 650 Electronic Dart Game. This black freestanding cabinet with Bullshooter logo houses the feature-packed CricketPro 650 Electronic Dart Game, which includes a regulation 15.5" target area and 24 games with 132 options, including 5 cricket games. The cabinet has convenient storage with shelves for all of your darting accessories. Assembly required. Dartboard accessories included. Features: * Black freestanding cabinet with Bullshooter logo and storage cabinet with shelves * Cricket Pro 650 electronic dart game Measures 84"h x 12 1/2"d x 23 1/2"w when assembled * Assembly required Dartboard features: * 8 Player score display * 24 games with 132 options including 5 cricket games* Regulation 15.5" target area* Single in/out & double in/out features* Voice prompt for player to throw* Solo play feature* Player handicap feature* Sleep mode and reset features* One year warranty against defects Accessories included:* 6 Soft-tip darts & extra tips* AC adapter* Mounting hardware* Game instructions* Operating manual